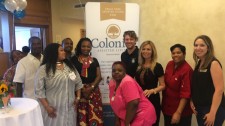 BOYNTON BEACH, Fla., June 8, 2018 (Newswire.com) - Colonial Assisted Living of Boynton Beach, an assisted living facility for seniors in Palm Beach County, FL, recently hosted City Mayor Steven Grant and Vice Mayor Christina Romelus at their newly renovated senior living community at 1708 NE 4th Ave in Boynton Beach.
Mayor Grant was pleased to see how well the 90-bed affordable seniors living community was being run and made staff members, caregivers and management at the Colonial Assisted Living at Boynton Beach feel appreciated by taking photos with all.
The Mayor emphasized that the city of Boynton Beach appreciates having these resources for its seniors, especially for those residents in that age demographic that can't afford the luxury rates at the newly built facilities in Palm Beach County.
Colonial Assisted Living's mission is to provide high quality senior living and daily care needs within the most economical pricing within communities in all of Palm Beach County.
Mayor Grant announced that the city is also moving toward many new programs to keep seniors safely entertained including launching a Day Center program for elderly residents in Boynton Beach.
Executive Director at Colonial Assisted Living of Boynton Beach, Trudy Therre, explored several avenues for maximizing benefits to increase the quality of life for the city's most loyal and longest-lived seniors. These discussion points covered various initiatives through a partnership with the city.
"It was truly a pleasure to engage with the new Vice Mayor and the City Mayor on these hot topics for our seniors. I am empowered by the city's new leadership and excited to have our Community as a resource for area seniors with the support of City officials looking out for our resident's well-being," said Ms. Therre.
Mayor Grant shared a 5-star review upon leaving and wrote, "Just visited Colonial Assisted Living and very happy to see all the upgrades that are going on!"
About Colonial Assisted Living at Boynton Beach
Colonial Assisted Living at Boynton Beach is part of the Colonial Assisted Living group of affordable seniors living communities in Florida. The company's founder, Ricki Kaneti, has been operating assisting living communities in the State of Florida since 2008 and is the third generation of owner-operators. 
Colonial Assisted Living is on a mission is to provide the absolute best accommodations in care and daily living for seniors at affordable pricing. Though privately held, the company operates communities in Miami, Broward, Lantana, Boynton Beach, West Palm Beach and Tampa. All communities are family owned and family operated.
Source: Colonial Assisted Living at Boynton Beach
Share: